Want Regular Updates on Our Upcoming Tours? Please Join us.
Welcome to Karevoyage
We are an award-winning travel and experiences platform that caters to the needs of travelers over 50 who like to travel in small groups and discover the world.

As a team, we do our very best to ensure we deliver everything we promise. We keep the current gaps in mind that people over 50 experience while traveling. Therefore, we design our itineraries in a way that allows you to experience everything without feeling exhausted.
It's all about you – the way our guests see us
Destination : Turkey
,
I would highly recommend KareVoyage to all my friends and family. I had the opportunity to go to Turkey with them. We explored 3 cities, saw a few villages, caves, mosques, different kinda pools, went on hot air balloon 🎈 , did a lot of shopping 🛍️💸 and much more. The list is never ending. Karevoyage please keep up the great work Loads of love and blessings to your entire team. 💝🥳👌
Destination : South Africa
,
Vietnam and Cambodia was my first trip with KareVoyage in December 2022. It was an extremely enjoyable experience. The travel, hotel, internal travel, food and smallest details were taken care of. Hoping to take trip with them in future too!
Destinations : South Africa, New Zealand, Kashmir, Georgia- Azerbaijan
,
We had a wonderful trip to Cambodia and Vietnam. All credit goes to the KareVoyage team. They took care of all our small needs. It was really happy moment when KareVoyage team supported one of our dear co-travelers to get all travel documents within short time when she lost her passport just couple of days before the end of our trip. We got more than we expected from this trip.
Destination : Maldives
,
Maldives was my dream destination and being there amongst wonderful people fulfilled it totally. Thanks to KareVoyage for such a well organised trip. Sheetal our group leader took care of every detail to see we were comfortable n enjoyed our trip. Her photography has given us great memories to cherish.
Destination: Gujarat (Dwarka, Somnath, Gir National Park)
,
You had made very sincere effort to make this trip a memorable experience which indeed it was. The planning and execution were commendable. What impressed me was the way you took care of the elderly and those who needed some support. The tour was paced well to take into account the age group and you had also ensured that those who were fit did have activities to keep them engaged like the morning trek for bird watching and the visit to a tribal house at the Gir resort.
Destination: Mediterranean Cruise ( Spain, Italy, Monaco, France)
,
We my husband Ranjit and I went on a Mediterranean Cruise with KareVoyage. Wonderfully arranged and with superb shore excursions at all places . The itinenary was well planned covering most places of interest and the choice of guides was spot on. Finally at Barcelona we had a surprise package of Flamenco dance, dinner on the side walk, visits to winery and medieval quaint towns around Barcelona. It was not just a pleasure tour but also a fantastic learning experience because of the guides. They took great care and went out of their way to see we were comfortable. We highly recommend KaraVoyage . Do go with KareVoyage and you are sure to come back with stars in your eyes. All the best.
Dedicated to the age group of
50 years & above
Travel with your partners and friends on holidays designed with YOU in mind. You may bring a companion over 18 years of age. 
Our group size is a maximum of 18-20 travelers.
Awarded, featured & recognised by
Silk Route
Tashkent- Samarkand-
Bukhara
20th Nov till 25th Nov
Coming Soon
Spiritual Trail & Food Delight
Lucknow-Chitrakoot-Ayodhya- Varanasi

30th Nov till 06th Dec
Coming Soon
Chettinad-Rameshwaram-Kanyakumari
Spiritual Retreat
11th Dec till 17th Dec
Coming Soon
New Year in Azerbaijan
28th Dec till 03rd Jan
Coming Soon
KareVoyage designs and executes unique group-travel experiences
across the world 
for 50+ travelers
In The Know – Why KareVoyage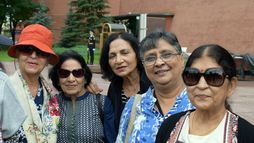 Dedicated to the age group of 50 years+
Travel with your companions and friends on itineraries designed with you in mind. Companions over 18 years old are welcome.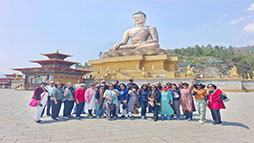 Small Groups- Big memories
Maintaining a small group size contribute to a cohesive and friendly atmosphere. When a group is small, it allows for closer interactions, personalised attention, and stronger personal bond amongst the travellers.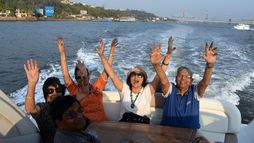 Genuine travel experiences
KareVoyage itineraries crafted carefully that are thoughtfully planned. We do not believe in conveyor-belt tourism, where groups are pushed through a rigid itinerary at the expense of spontaneity. Your Pace – Your Comfort is the key here.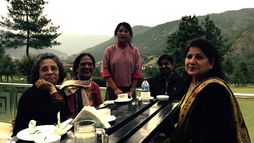 Hassle-free all-inclusive packages
We respect your budgets. There are no shockers at the end of the trip, nothing is left to chance. In few cases there could be exceptions to this rule, and the same will be very clearly notified to you.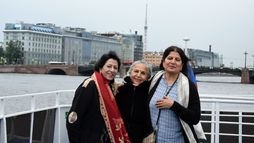 In The Know - Because We Care
Before every tour we gather all information from you pertaining to your likes and dislikes, your medical history, your food habits and we make a note of all in order to give you a wholesome travel experience.
Become the member of Senior-Travel community. Find great friends, create awesome travel stories.
Genuine Travel Experiences 
for 50+ travelers
KareVoyage creates thoughtful, well-crafted itineraries. Our approach is to NOT follow a rigid itinerary that restricts spontaneity in the group.
Your Pace & Your Comfort is the key here.