Kare
Voyage
MYSTICAL BHUTAN
04th May to 10th May 2020
Bhutan- Land of the Peaceful Dragon.A perfectly fitting, perfectly intriguing description of the country.
Deep in the heart of the eastern Himalayas lies the kingdom of happiness and peace, enthralling our imaginations with its serene ambience, picturesque landscapes, and tranquil demeanor.
This unique country has only been open to outsiders since the 1970s. While Bhutan is often considered a "little India" or compared to Tibet, its people are keen to maintain their unique national identity. They're justifiably proud of their beautiful country.
Visit Bhutan with KareVoyage and make new friends you'll cherish for a lifetime! With our group travel experiences, you'll appreciate the camaraderie of fellow like minded travelers, pace of travel, as well as the safety of a well organized travel group as you set out to Bhutan.
Day 1: PARO – THIMPHU (65 Km, 2 hour drive)
At Delhi Airport : Meet the KareVoyage Tour Manager at Delhi Airport for smooth airport assistance.
Take a picturesque flight to Paro. Don't forget to witness the Mt. Everest peak, during the flight. The landing of Drukair, the national airline in Paro Airport will bring the glimpse of Bhutan. On arrival, meet our representative and your travel companion from KareVoyage along with the guide. Time to sit back and relax as you are driven in a private luxury coach to Thimphu. This is going to be approximately 1.5 hours drive from Paro. We will drive passed Tachog Lhakhang Bridge built by ThangtongGyalpo. We'll also drive past Chuzom, the meeting point of the Paro and Thimphu rivers. Here, you'll see shrines built to ward off evil spirits that the Bhutanese believe lurk beneath the water.
Inclusions: Refreshments on the coach and Dinner at the Hotel in Thimph
Day 02: THIMPHU
Morning:
– After breakfast, we leave the hotel at around 9:30 AM.
– All sightseeing points are at a comfortable distance of 5-10 minutes.
– Each location will take not more than 30-45 minutes.
Our first visit is to Jigme DorjiWangchuk Memorial Chorten, Built in 1974 in memory of the Third King, Jigme DorjiWangchuck, who is popularly considered as the Father of Modern Bhutan. We then head to National Institute for ZorigChusum (the 13 traditional Arts and Crafts) National Folk Heritage, and Traditional weaving center in Thimphu. From here we will head to a local restaurant for you to enjoy and relish your lunch.
Afternoon :
After lunch, we will head towards the National Textile Museum and Handicraft Emporiums, vistingTashichhoDzong, the main Government Secretariat building, which houses the government ministries, the office of His Majesty the King and the Throne Room, and the offices and living quarters of the monks. In the evening, we suggest you take a short hike (one way) to Buddha point, which will take approximately 1 hour. We will bring you back to hotel by your coach.
Inclusions: Breakfast & Dinner at the hotel, lunch at one of the local restaurant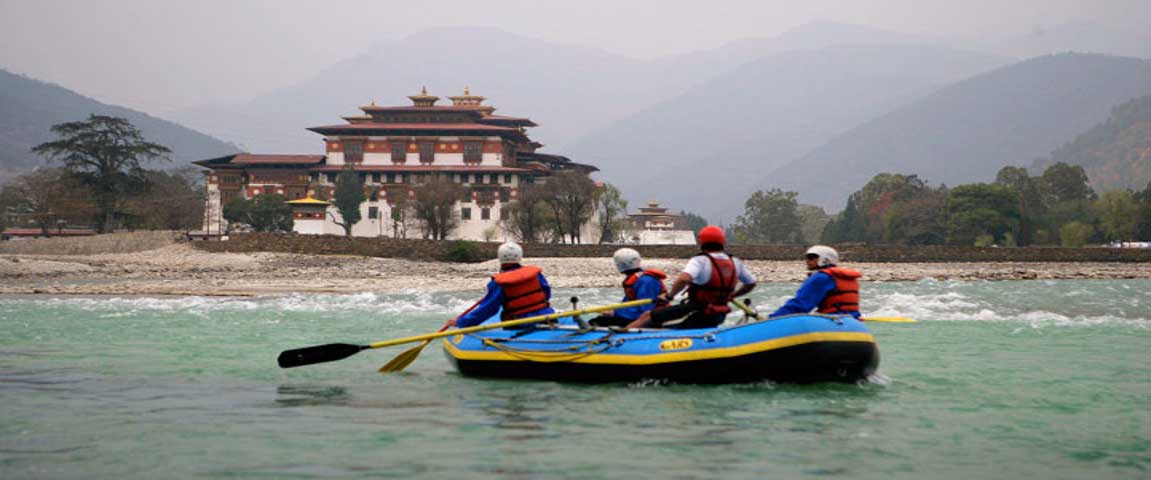 Day 03: THIMPHU – PUNAKHA (85 Km, 3hours)
After breakfast, we will check out from the hotel today at around 8:30 am. We will drive you to the beautiful city of Punakha. On our way we will visit SemtokhaDzong (country's oldest Dzong) will be seen and the route bypasses Dochula (3140M pass). Dochula pass gives an essence of Bhutan being a real Himalayan country. On a clear day, you will witness a wonderful view of the Eastern Himalayas covered with snow. We will take a short break at Dochula pass for Lunch and for you to explore this very beautiful and picturesque location.
Inclusions : Breakfast, Lunch & Dinner and all sightseeing mentioned above
Day 04: PUNAKHA
We have our breakfast at the hotel
After breakfast visit PunkhaDzong (Fortress) which is located between convergence of two rivers, the Pho-chu (Male River) and Mo-chu (Female River). The Dzong also serves as a winter residence of the Central Monk Body. (Drive via coach and take a 3-minute walk over the suspension bridge to reach the Fortress (Dzong), from Dzong we head towards Shegana Village. Overnight in hotel at Punakha
Meals Included: Breakfast, Lunch, Dinner & sightseeing
Day 05: PUNAKHA - PARO (124km ,4.5hours drive)
After breakfast today we will drive towards Paro, Lunch we will have at Thimphu.
We wil visit Paro Ta-Dzong, the National Museum, which is located on the hill behind the Paro Dzong. Later visit DrugyelDzong (which means victorious). It was built in 1649 AD by Zhabdrung Ngawang Namgal in order to commemorate the victory over the Tibetan invaders and it formed one of the chains of defensive fortresses against the Tibetan invasion. (10-minute walk from the road point) visit to Kyichu Lhakhang, one of the oldest temples in Bhutan and you will be happy to see an orange tree that bears fruit throughout the year.
Evening is free to explore the city
Inclusions : Breakfast, Lunch & Dinner
Day 06: PARO (Local Sight Seeing)
We would start with hiking up to the Taktsang monastery (Also known as Tiger's Nest), perched on the side of a cliff 900m above the floor of Paro Valley. This brings pride to the Bhutanese about the work of their ancestors. It is said that Guru Padmasambava arrived Taktsang Monastery on the back of a tigress and meditated for three months therefore, it is known as 'Tiger's Nest'. After visiting the monastery, walk down to the Paro surface. For guests who may not want to go for trekking we will arrange a farm visit which gives you a feel of Bhutanese culture in all true sense.
Inclusions: Breakfast, Lunch & Dinner
Day 7: Departure
Our trip comes to an end today; we head back home rejuvenated with beautiful memories to cherish for lifetime.
Inclusions: Breakfast
• Inclusion: – 4 star & Boutique Hotel.
• Includes Airfares
• All the meals (Breakfast, Lunch, Dinner)
• Breakfast & Dinner will be served in the hotel.
• All internal Road Transport.
• A Trained Bhutanese Tour Guide.
• All the fees and charges for visit of Monuments & Museum
• Including 5% GST
• Tips, laundry, telephone/ fax calls, beverages, airport departure tax- if applicable.
• Meals and drinks not part of the group menu.
• Travel Insurance and any other expenses caused other than expenses included in the package.
KareVoyage Comfort :
• For our Elder travelers who wish to avail home-to home service for pick up and drop we will be happy to assist you with the same – At nominal additional cost – (Applicable for guests joining us from Delhi & NCR region)
• Before we start any trip as a practice and for your utmost comfort we gather all information pertaining to your day to day activities, medical history, eating habits, in order to give you a true wholesome experience.
• We will host a small get- together before we embark on the journey, the camaraderie is even better once you know your fellow travelers joining you for a tour.
• We believe in transparency and deliver what we promise.
Cancellation Policy:
We try to support as much as we can in event that you have to cancel your tour because of reasons beyond your control. However, our cancellation policy is aligned with our various service providers and it varies from country to country, for Bhutan it goes as under
Upto 90 Days before departure date:  25% of package amount
89-60 days: 75% of tour package cost
59-45 days: 100%
About Karevoyage
Karevoyage- for 50 plus wanderers- is an exclusive travel and tour company dedicated for travel enthusiasts, who prefer to travel the globe and explore but in a group environment.
The KareVoyage team understands the gap and works very hard on how to deliver on what we promise. Keeping all current gaps that people over 50 experience while travelling, we design our itineraries in a way that lets you experience everything without making you feel exhausted.
Contact us to book your spot !
Genuine Travel Experiences 
for 50+ travelers
KareVoyage creates thoughtful, well-crafted itineraries. Our approach is to NOT follow a rigid itinerary that restricts spontaneity in the group. 
Your Pace & Your Comfort is the key here.